You most likely know me for my art…
but did you know I also…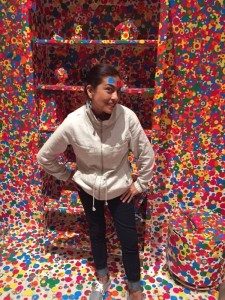 In addition to my studio work and shenanigans, I've also been focusing more on being a mentor and cultural agent.
I am the Upstate Representative and Exhibition Curator at Palmetto Luna. I love working to promote a greater understanding of Latinx arts and heritage in South Carolina and fosters diversity within the local artistic community.
As a member of the National Association of Latino Arts and Cultures (NALAC), where I recently did a week training at the 2017 NALAC Leadership Institute, I am working to be an agent of change, advocating for upcoming Latino artists and reaching for greater inclusiveness in all the arts.
Besides Art, I think animals are the best part of this Earth. As an animal activist, I work with local non-profits to support, maintain, and rescue abused dogs and feral cats.
Here's what's coming next:
Come see me in Oregon! I am a featured artist at Imprint Gallery located in Cannon Beach. Check out all their beautiful work if you are in the area.
Check out the new products at my Shop.
September/October is Hispanic Heritage Month! I'll be busy curating a mixed-media exhibition at the 

Greenville County Library,

 and sitting on a panel of Latino Artists on September 19th.
I'll also be organizing an art exhibition and fundraiser collaboration between Palmetto Luna and the Hispanic Alliance. It's called Hispanic Heritage Month: Educating, Embracing, and Empowering Diversity, and it will include work from 16 Latino artists across South Carolina. Learn more here, and don´t miss the opening reception!
I have the great honor to direct a collaboration between Palmetto Luna and The Citadel Oral History Program on an exhibition generously supported by the Humanities Council of South Carolina. ECOS is based on Las Voces of the Lowcountry, and I can't wait for you to see it. Information will be coming soon here.
I'll be sitting on another panel discussion next to highly talented sculptors during The 39th Annual Tri-State Sculpture Conference (VA, NC, SC). It will be held on October 19-22 at the campus of Converse College. Hurry up to register here.
Sshhhh…don't tell anyone yet, but my suspended installation created for the Indy Grits festival, Map Acrobático, (yes, it really has 400 flying acrobats) is going to be a permanent addition to the Main branch of the Richmond Library in Columbia. What an adventure in logistics… I'll invite you to the opening once the piece is up.
Thanks for sticking around til the end!